Ingredients …
DOUGH
FILLING
If you have a sweet tooth, you can add on a glaze while they are still hot, by creaming 55gm of butter with 170gm of icing sugar and 1 small tablespoon of milk.
Method …
In a small sauce pan, warm up milk. Once lukewarm, pour 60ml in a small bowl and add the yeast. Add butter to sauce pan. Let melt and remove from the heat. Let cool down.
In a mixing bowl, add starter (I have been feeding mine with less milk over the last few weeks, so it's stiff, if yours is liquid, add less than 300gm), eggs and sugar. Mix delicately. Add lukewarm milk and butter mixture progressively. Mix well and gently add the yeast.
In a separate bowl, mix salt and flours. If you wish to have a lighter brioche consistency, use only white flour.
Add dry ingredients to wet ingredients. One incorporated, attach hook to knead or use your elbow oil!!! and knead for 5 minutes. Ball of dough should be starting to form and be quite sticky.
Let rest for 30 minutes, covered with a wet tea towel.
Knead again for 8-10 minutes.
Place in an oiled bowl and cover. Keep in warm place and let rise for at least 2 hours.
Prepare filling. Soften butter in a sauce pan. Reserve on the side.
In a blender, reduce walnuts and almonds to a coarse powder. mix in with all remaining dry ingredients. Set aside.
On an oiled bench, roll the dough in a rectangle of about 30x40cm and half to one centimetre thick. The thicker, the less rolls, but you'll obtain doughier/brioche results. You can shape between 8 and 15 rolls depending on the thickness you wish.
Brush dough with all the softened butter, including the edges.
Sprinkle evenly the sugar/nut mix, leave clear space 1/2 cm at the top, so when you roll dough, edges stick together to seal.
Facing the large side, start rolling dough – go slow and try to tighten as you go.
Cut with a very sharp knifej, a roll of 2cm (ish) thickness.
Place rolls on a baking try, they will rise and touch each other eventually if you can space them further apart so they don't touch each other.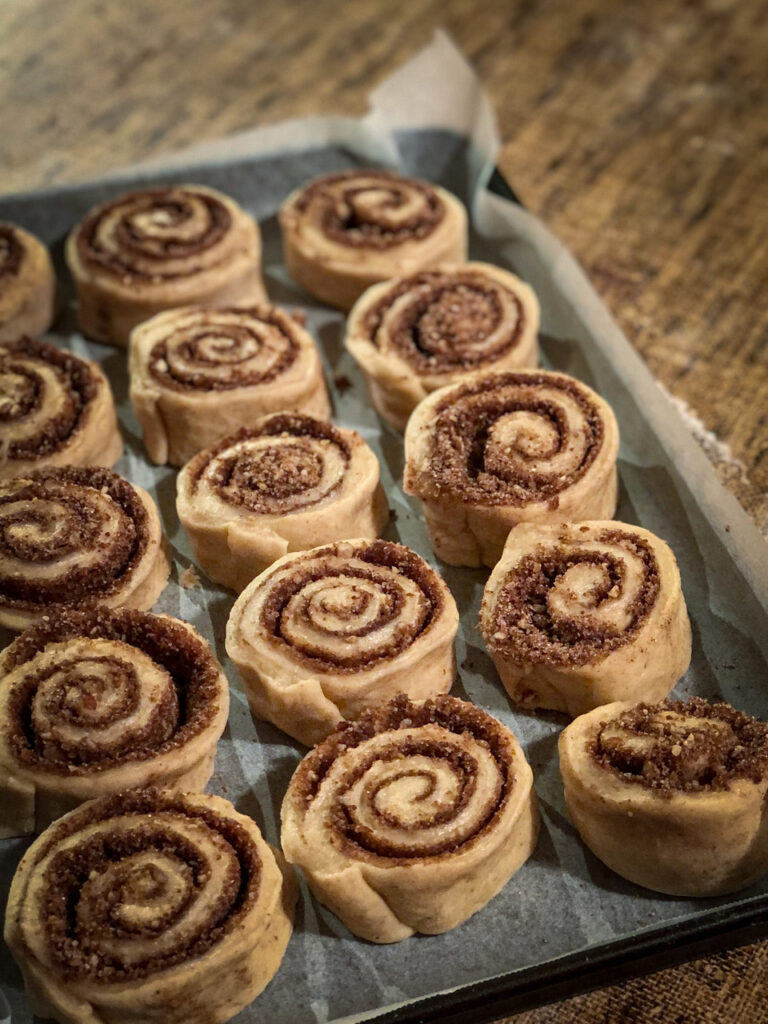 Let rise for another hour or more.
Bake for 25 to 30 minutes at 180 celsius, until they are golden. Internal temperature should be above 85-90 celsius (I was distracted and this batch spent a few too many minutes in the oven for example – they could definitely be lighter!).
Let rest for 10-15 minutes in the tray, then place on a cooling rack.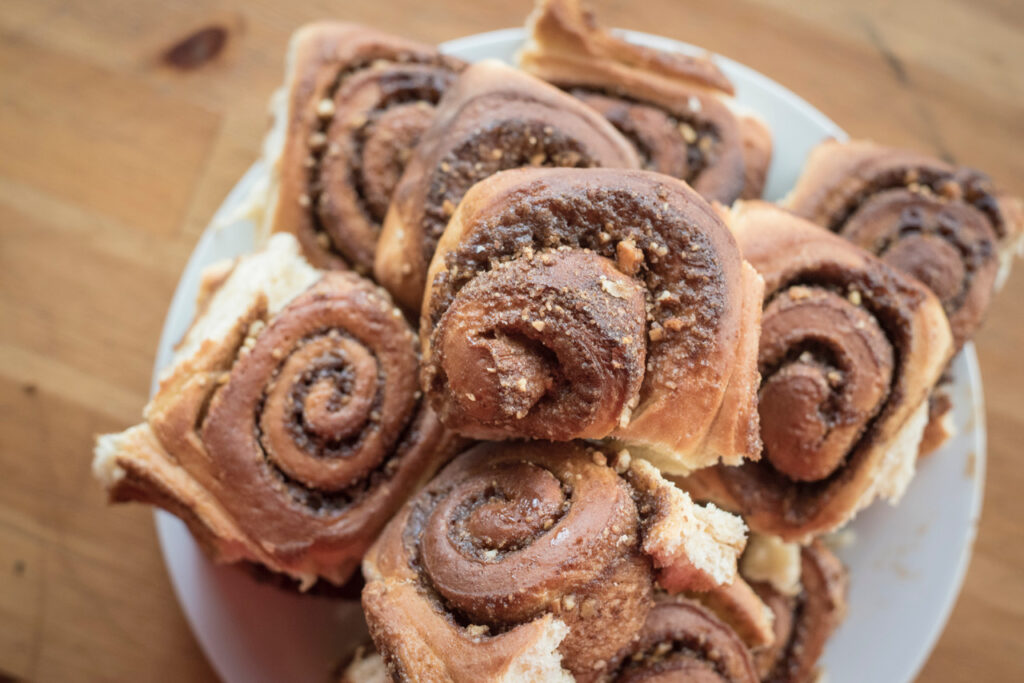 Best enjoyed warm!!!
Created by Chef's Anne-lyse and Daniele