Please leave comments and we'd love your recipe suggestions.
To all the Ample Team, Last week we received our first organic fresh produce box. Our whole family agree we have never tasted such lovely veggies, I even got the kids eating the broccoli.
Anne J. – Olinda
Hi guys I received my first order last week and I am so so impressed with the quality of the produce!!!  Even my husband has noticed a difference in taste!!!  Thank you so much and I am looking forward to my next box tomorrow.  And I have also recommended you to my friend.
K.Z.
Thank you so much for this weeks box.  Unpacking it I couldn't help but smile.  I feel so blessed to be able to provide my family with this organic goodness.  Enjoy your weekend.
E.D.
Thank you for our delivery today.  The oranges are the most delicious I have had in years.  Looking forward to trying everything else, we will definitely be reordering next week.
C. McH
Just got our first ever box of fruit and veg from you.  SO GOOD!!  We are incredibly happy.  Thank you Thank You!!!!
R. & M. W.
Absolutely lovely produce Janet, how old is what we get from Woollies!  (never again) my daughter and I are SO excited!  Please pass on my gratitude to Heather for delivering.
J.A.
My fruit and veggie box is just perfect.  Thank you so much for the amazing and fresh produce.  It really is wonderful.
A.C.
Hi Janet, just want to mention a huge thank you to Sarah for looking after me today.  For some reason my usual veg list didn't appear on the on-line order.  But Sarah is sending some veg that was on my list through Merinda.  I'm so grateful and thankful to Sarah for helping me out and I'm your customer for life now.  Have a good evening.  Thanks
M.K.
Cannot recommend the quality of produce received in my fruit and vege box enough. Everything was so fresh. Will definitely be ordering again. Great value!
A.D.
We love getting the seasonal fruit box, amazing quality and great quantity of fruit for our family of four 
S.M.
We'd love to hear from you!
Leave us a comment.
Which products do you love to use?
Send us your recipe!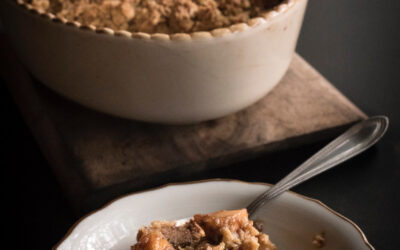 Ingredients ... Crumble: 125gm Rolled Oats 100gm Baker's Unbleached Flour 50gm Raw Sugar 50gm...
read more