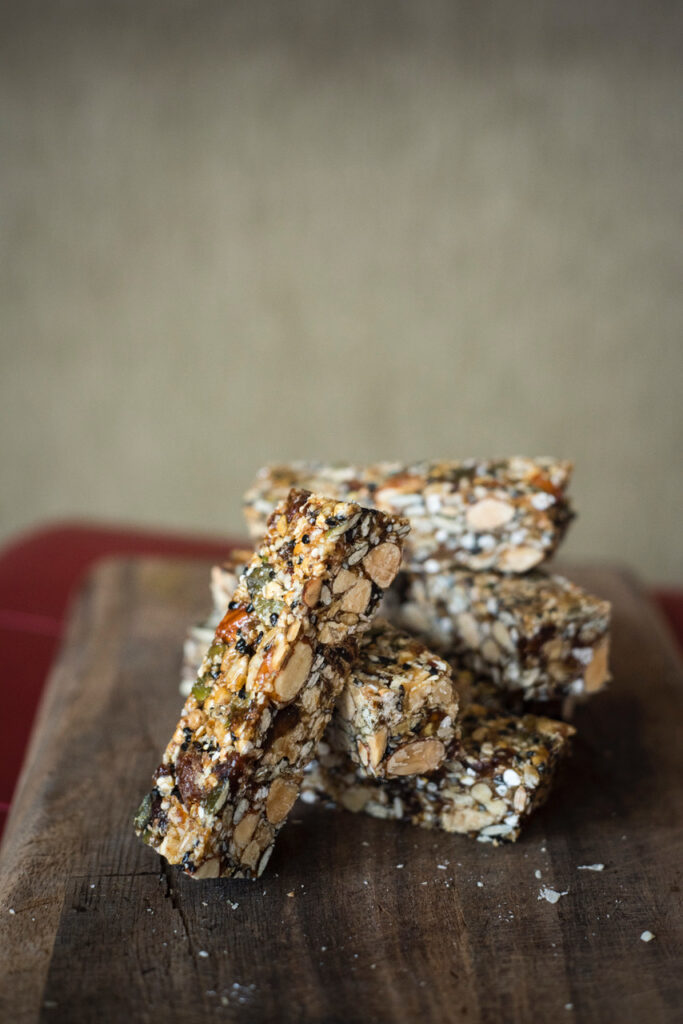 Base Ingredients
Miso Caramel, Dates & Apricots – version 1
Peanut Butter Caramel, Figs, Apple & Cranberries – version 2
If you wish – activate all seeds and nuts prior by soaking them in water before toasting them. You can find online instructions on how to activate nuts and seeds pretty easily.
Toast all nuts and seeds (except Buckini, Hemp Seeds and Quinoa Flakes) in oven for approximately 25 minutes at 175 celcius.
Let cool down. Add any dry fruits from your preferred version and mix well.
Prepare your caramel. In a saucepan add all ingredients for syrup (honey, maple syrup, salt, cinnamon or vanilla, miso or peanut butter) and increase heat until it reaches 125 celcius.
Add the caramel to nuts and fruits, mix well. You'll have to be quick from that moment onwards as caramel will start to set as it cools down.
In a baking tray, lined with baking paper, pour in the mixture.
Use another piece of baking paper, layer on top to press down and flatten mixture.
Let cool down in fridge/freezer for 20 minutes.
Cut in your preferred shape and size, using a very sharp knife and pushing down.
Return to fridge for a crunchier version and longer storage. Keep in an airtight container and at room temperature for a chewy version for probably maximum 2 weeks.
Enjoy as many versions as you wish, mix nuts, fruits and seeds combination. Play with flavouring of the caramel. Endless possibilities.
Recipe and Photograph by Chef Anne-lyse.