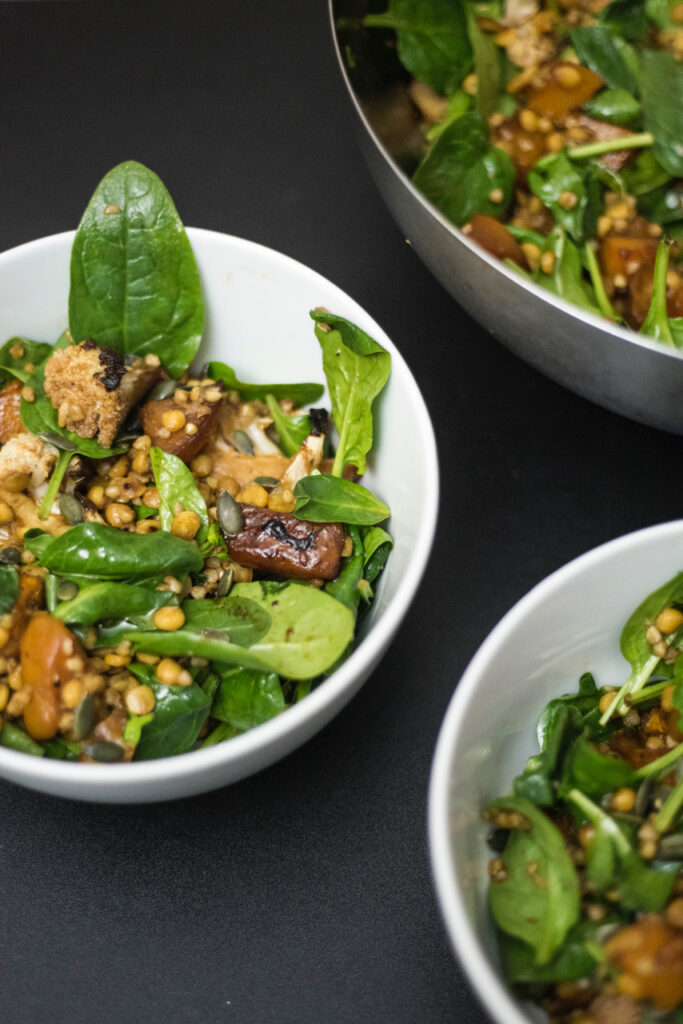 Ingredients …
FOR THE GLAZE …
half lemon juice
1 orange juice
1 tablespoon Tamarind paste (see notes in method)
1 tablespoon coconut sugar
2 tablespoons maple syrup
2 teaspoon tamari sauce
2 tablespoon grapeseed oil
salt and pepper
pinch of cayenne pepper
pinch of ground cloves
1 small piece of fresh ginger, finely chopped or grated (need 1 generous tablespoon worth)
Method …
Soak Chana Dal, and Buckwheat separately for 6 hours in water with a tablespoon of apple cider vinegar.
Wash. cauliflower head and cut into small florets
Peel pumpkin, remove seeds and cut into small cubes
Mix in all ingredients for the glaze. Please note that Tamarind Paste is pretty sour and final product is quite tart and powerfully bitter/sour. For a less heavy result, I recommend you start with half the measure of tamarind paste and increase sugar content. If you like sour food like me, go crazy, but not everyone is a fan.
Marinate vegetables in glazes and reserve in fridge.
Rinse then cook the Chana Dal and Buckwheat in boiling water and in separate pots until grains are soft and tender. Drain and reserve.
Pre-heat oven to 180/200 celsius. Put veggies on a tray large enough so they are not on top of each other. Don't pour all the marinade in the tray, just enough to keep moisture during cooking. Cook until tender and caramelised. You might need to stir them half way through. Once cooked leave them to cool down in the tray.
Warm up a large saucepan with a tablespoon of oil, and a little bit of butter. Stir in Chana Dal and Buckwheat, let caramelise a little. Add some of the marinade left over. Let caramelise a little more then reserve on the side.
Once veggies and grains are warm, mix together in a bowl, add in spinach leaves, mix and serve with a drizzle of olive oil and some toasted pepitas.