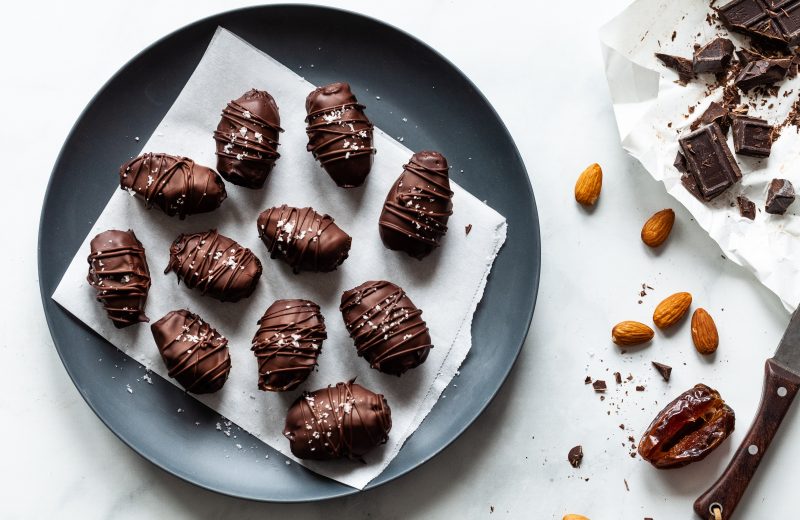 Ingredients …
Method …
Using a small paring knife, carefully cut a slit lengthwise in each date. Remove the pip. Place an almond inside each date and gently press the date closed. Place the stuffed dates on a place and refrigerate for 30 minutes.
Using a double boiler, melt the chocolate in a heatproof bowl until smooth, glossy and fluid. Removed chocolate from the heat. Using a fork, carefully roll each chilled date in the chocolate until fully coated. Remove any excess chocolate from the bottom of the date and place on a parchment lined baking sheet. Repeat with the remaining chilled dates.
Place the dates in freezer until the chocolate is set and no longer glossy (about 10-15 minutes). Remove the dates from the freezer and, using the tines of a fork or a small piping bag, drizzle any remaining chocolate over the top of the dates. Note: you may need to reheat the chocolate slightly to get a good drizzle. Sprinkle the top of each date with crushed sea salt.
Place the finished dates back into the freezer for their final set up (about 15 minutes). Allow to sit at room temperature for at least 10 minutes before serving.
These are simple to make, and would be great edible gifts. This recipe comes from the Fruit & Vegetable Co-operative.